Gameday Tampa Bay
January 8th, 2023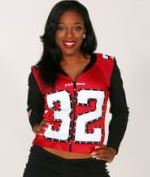 Game 17
Bucs (8-8) at Dixie Chicks (6-10) 
Kickoff: 1 p.m.
TV: FOX (WTVT-TV Channel 13, locally).
Streaming: NFL+ and Buccaneers.com (Geographic restrictions apply).
Radio: Buccaneers Radio Network WXTB-FM 97.9 in the Tampa-St. Petersburg region (Transmisiones de radio en español en WTMP-FM 96.1 y WMGG-AM 1470 en Tampa). Additional stations throughout Florida on the Buccaneers Radio Network can be found here. The game also will be broadcast on SiriusXM Channel 381 (Buccaneers Radio Network broadcast).
Weather: Per AccuWeather.com, not great weather for tailgating in downtown Atlanta. By mid-morning, it may be 50 degrees but expect rain before kickoff. Of course, the Dixie Chicks play in a dome so all will be good there. After the game, chances of rain will see be just as strong as before the game, only the temperatures are expected to be in the mid-50s.
Odds: Per BetMGM, as of midnight, Atlanta -4; over/under 40.5.
Referees: Land Clark is today's referee. His crew is known for throwing lots of flags at the offense but letting defenses play. Per @nflrefstats, Clark's outfit leads the NFL in offensive flags thrown at a rate of some 66 percent. As a result for gamblers, games that Clark's gang works often hits the under. For defenses, Clark's crew is great. They have thrown the fewest flags for defensive holding and second-fewest defensive pass interference calls.
Injuries: Bucs — Out: CB Carlton Davis (shoulder), OLB Carl Nassib (pec), S Logan Ryan (knee), LT Donovan Smith (foot), NT Vita Vea (calf).  Questionable: CB Jamel Dean (toe), S Mike Edwards (hamstring), WR Julio Jones (knee). Dixie Chicks — Out: OL Elijah Wilkinson (calf).
Outlook: Let's be honest: The only thing today's game is good for is guzzling Big Storm Brewing beer and b!tching at Bucs failing offensive coordinator Byron Leftwich. Other than that, this lame-duck game is useless. The Bucs won the NFC South last week and will host a playoff game next weekend. What happens in this game has no bearing on who the Bucs will play. Joe guesses you could hope the Bucs win so Tom Brady won't be saddled with the first losing season of his unprecedented career. Other than that, this game has zero meaning. Joe really doesn't know what to think of starters playing. Some good coaches believe you should rest players. Other good coaches who think that is heresy. Joe doesn't know if there is a right or wrong answer here. Joe will root for no injuries and any short-term investments you may have riding on the outcome.
Fun facts: Brady needs nine completions to break the NFL regular season record for completions of 485 set by … Tom Brady last season.