"Makes Me Want To Go Even Harder"
January 6th, 2023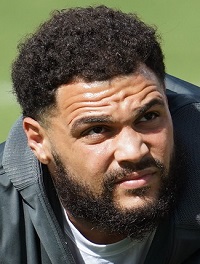 Leave it to legendary Bucs receiver Mike Evans to draw inspiration from a tragedy.
Sports fans everywhere were shaken by what happened Monday to Bills safety Damar Hamlin. Having a heart attack after an on-field hit during Monday Night Football shocked the sports world and society at large.
While many players might say the incident has them re-thinking the importance of playing football, Evans said what happened to Hamlin has him more focused on giving the game everything he has.
"It was scary to see, but it just makes me want to go even harder because you never know when it's going to be your last time," Evans said. "You never know. So you just gotta give it your all every time."
What a healthy attitude by Evans. If you're going to have a career that comes with risk, then why not embrace and appreciate all its moments.