Five Things
January 17th, 2023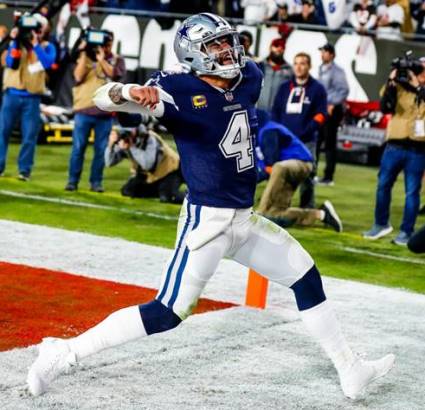 What an ugly way to end a season. What an embarrassment. So let's get this out of the way on this depressing Tuesday morning.
Tom Brady's Mindset
Joe has no idea what Tom Brady has in mind. Nor does Joe know what the Bucs have in mind.
Joe spoke with someone a few weeks ago and it seemed the organization was sort of in a wait-and-see approach. They wanted to see how the season played out.
Is Brady shot? He was awful last night but to be fair, Joe promised in the coming days to detail advanced stats on failed Bucs offensive coordinator Byron Leftwich that left Joe speechless.
Simply put, in many ways, Brady and the Bucs offense was hung out to dry by Leftwich's ineptitude. A competent offensive coordinator would make a world of difference.
You could interpret Brady thanking the local pen and mic club last night and professing how much he loves the Bucs organization as a farewell. Joe isn't sure. Brady's not that sloppy to give blunt hints about his future.
Given an offensive coordinator that has a clue of what he wants to do (and what Todd Bowles wants to do), Brady is as good as any quarterback that may be available this spring, both in free agency and the draft.
And trust Joe, Brady brings truckloads of cash and relevancy to an otherwise forgotten franchise. This very much gets Team Glazer's attention.
With Brady, the Bucs are still a favorite to win the NFC South in 2023. Without him? Who knows? The Bucs are unlikely to have a quarterback remotely close to Brady for the next 5-20 years, so Joe is of the mind to milk this cow dry. If Brady wants to come back, embrace him with open arms.
Will Bryon Leftwich Be Back?
Joe would have canned Leftwich's arse after the failed coordinator had the most irresponsible gameplan Joe has ever seen at Pittsburgh then followed that up with a disgraceful offensive output against the Stinking Panthers who had just run their head coach.
For Bowles to have not at the very least demoted Leftwich, well, that's on Bowles and Bowles should have an answer for that with Bucs AC/DC-loving general manager Jason Licht and Team Glazer this week.
Joe cannot fathom how the Bucs could bring Leftwich back and try to claim they are serious about making the playoffs in 2023.
Todd Bowles' Job Security
Before last night, Joe thought it was ridiculous to suggest Bowles be fired after winning a division in his first year. And Joe will continue to repeat this as it is very much a big deal in football circles: Bowles has not (at least not yet) been able to hire his own staff.
It's almost irresponsible to run a coach who won a division before he even had the chance to select his own assistants.
Then came last night. The Bucs, especially their defense, was woefully unprepared. That's a very, very, very bad look to have a team that lost in a home playoff game against a team that had been playing like @ss the past few weeks.
Joe is not advocating Team Glazer run Bowles. But after watching last night's debacle, there really were too many debacles this season to think they were random accidents. It's more like a pattern.
Would Joe be shocked if Team Glazer removed Bowles now, which would be the first time Team Glazer ever replaced a coach after one year? No, not after last night. Surprised? Yes. Shocked? No.
Besides, Joe thinks it is fair to ask if you can't win with Tom Brady, then when can you win?
Changing Roster
Aside from the mystery of Brady, it's a safe bet there will be many new faces next year. The team has a lot of free agents.
Joe spoke last night with Cam Brate. He admitted he thought both before the game and when he walked off the field it could be his farewell to Bucs fans. He will turn 32 before training camp begins.
Lavonte David is a free agent and he just turned 33 next week Monday. Other free agents include Jamel Dean, Sean Murphy-Bunting, Akiem Hicks, Will Gholston, Julio Jones, Logan Ryan, Carl Nassib, Anthony Nelson, Cam Brate, Nick Leverett and Scotty Miller.
The Bucs the last couple of years have done a really good job retaining free agents. That's unlikely to happen this spring. Former Bucs coach Dirk Koetter often said roughly a third of your roster changes each year. For the first time in a few years, that may just happen.
So in the coming months, it's a safe bet the Bucs will wave goodbye to several players that had a role in the Bucs winning 29 games from 2020-2021, including a Super Bowl. Times are a changin.'
What About Assistants?
Whether the Bucs keep Bowles or decide to march in another direction, there will be new assistants. Joe is going to guess Kacy Rodgers will stick around as he has been with Bowles for a good chunk of this century. The rest of the coaches? Who knows?
Joe does know Bowles had several coaches in mind to bring in but they were not available when he was elevated to head coach back in March.
Joe cannot imagine Leftwich will be back which means the rest of the offensive coaches could be moving on as well.
And Keith Armstong on special teams? Bowles in New York was quick to get rid of an underperforming special teams coach. Armstrong has had rotten special teams for too many years. So he's got a target on his back, Joe would assume.
Finally, Thank You!
It's 3:42 a.m. Tuesday morning as Joe is typing this here column. The 2023 season has come to an end, and so to is the end of this day-after column until the regular season kicks off in September.
Joe thanks all of you for reading it.