Five Things
January 9th, 2023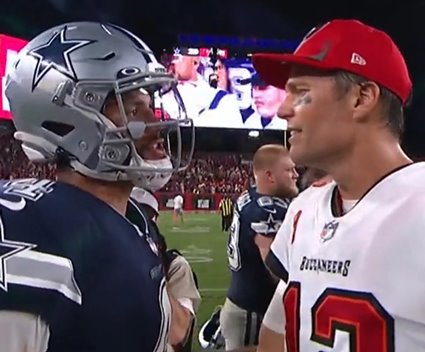 Yeah, yesterday was a drag. The Bucs are now responsible for Tom Brady's first losing season. But you know what, Joe doesn't have time for that nonsense. It's the NFL Playoffs! Time to prep for the dreaded Cowboys as the Bucs open at home on "Monday Night Football!"
Playoffs Are A Go!
It's hard to believe the Bucs are heading to the playoffs after such an underwhelming and disappointing season,
But here we are! And a home game to start he playoffs, too! How 'bout that?
The Bucs, despite finishing 8-9, are division champs. Damn, three straight playoff appearances. It wasn't long ago that just landing a wild card berth felt as if the Bucs won the Super Bowl!
Joe thinks the Bucs can give the Cowboys a run for their money a week from tonight. The Cowboys aren't playing well. The Bucs played well two weeks ago against Carolina and yesterday Joe is convinced the Bucs would have won if they kept their starters in the game.
Dallas? They got clobbered by the Commandos and rookie quarterback Sam Howell last night. The Cowboys look vulnerable as hell.
So yeah, the Bucs have a losing record. But it seems the Bucs are entering the playoffs sharper than Dallas.
Let's hear it for Uncle Mo! Good ol' momentum.
Quit Whining; Bucs Are In The Playoffs!
When NBC released the schedule for Wild Card Weekend, Joe saw the Bucs were playing on Monday Night Football — Joe was very sure the Bucs would have a primetime game — Joe immediately applauded!
How cool is that?"
Apparently, Joe was in the minority. Almost immediately, Bucs fans came back at Joe. "Hey man, if the Bucs win they have a short week before they play Philly and they have a bye, not cool!"
To which Joe replies, "Calm down!"
The Bucs had a losing season. By all rights, this team shouldn't even be in the GD playoffs much less hosting a playoff game. It's a minor miracle with an 8-9 record the Bucs are even here.
Joe is counting the blessings. If in any other year the only way the Bucs would be allowed in the playoffs after a losing season, they had to agree to play the No. 1 seed on short rest (if they won their first game) or else not play in the playoffs, you'd take that offer with a home game in a heartbeat.
Any other year, the Bucs would be packing their bags right now for Tulum. Instead, they are in the playoffs.
Instead of whining about getting screwed by the NFL, fans should be on their knees thanking the football gods for letting the Bucs make it to the playoffs.
Extra Day For Bucs May Be Huge
So yeah, Joe is reading how some fans are outraged that if the Bucs do win, they might have to play the Eagles on a short week while the Eagles will be coming off a bye.
Joe will take that short week. Here's why:
That extra day (two days?) instead of playing Saturday or Sunday may be the difference between Nick Leverett playing center or Ryan Jensen.
Jensen began practicing two weeks ago after beginning a 21-day window in which the Bucs can activate him off of injured reserve.
This week is the third week.
The Bucs are very tight-lipped about what Jensen is doing. Last week he finally put the pads on. What exactly he did in practice is unclear.
In one respect, the fact the Bucs began the clock ticking on Jensen two weeks ago suggests the team has confidence he could be ready this week. Otherwise, why go through all this? Instead just tell him to chill and be ready for OTAs?
Yesterday, Jensen's replacement, Robert Hainsey, who has started every game, had a hamstring injury in the first quarter and did not return. Bucs coach Todd Bowles had no update, but hopefully will later today in his day-after presser.
That extra time to prepare for the Cowboys could be all Jensen needs to get back on the field if Hainsey is unable to go.
You don't normally see hamstrings heal in a few days.
The Rookies
Coaches often say rookies are no longer rookies late in the season. Well, if that is the case, a few Bucs rookies really need to hit the weights, study film and raise their games between now and the start of the 2023 regular season.
The way some of the rookies played, or didn't play, raises some concern for Joe.
In August, Joe thought this was a helluva rookie crop Bucs AC/DC-loving general manager Jason Licht pulled together. But man, yesterday, sheesh.
Is there an APB out for Logan Hall? He started the season nicely. But man, there must be a book out on him. Hall was getting 30 to almost 40 snaps a game earlier in the year. That fell off big time in recent weeks.
You hardly ever heard his name the past couple of games. For a top rookie defensive lineman drafted high in the second round to just go nearly invisible the last month of the season is not a good sign.
Rookie wall? Hall hasn't played enough to hit a rookie wall.
Yesterday Luke Goedeke had a nice overall game at right tackle but man did he make one of the most unaware, dumb penalties you will ever see a right tackle make.
Later in the game Joe saw Goedeke getting into it with a Dixie Chicks defender. Goedeke prides himself in not backing down and playing through the whistle. But Joe would rather have a guy play smart than with false bravado.
All the tough-guy stunts aren't worth a damn if he is costing his team points with dumb play. Goedeke's holding call on what would have been a first down run ended up costing the Bucs four points as the Bucs had to settle for a field goal.
Zyon McCollum may be one of the nicest guys Joe's ever dealt with and he is a solid special teams player. At times, he looks overwhelmed on defense.
Joe hopes these three, with an offseason in the weight room and a full spring of meetings and film study, will bump up their play.
The New Blaine Gabbert?
Joe was quite surprised watching backup quarterback Blaine Gabbert play yesterday. He was zinging the ball, man.
Gabbert should have had two touchdowns as he hit Devin Thompkins right in the hands for six, but Thompkins dropped it.
Gabbert later connected with Russell Gage for a score.
Joe had never seen Gabbert throw with such a quick release like he did yesterday. Joe doesn't know if that's something he picked up from Tom Brady or if that was something he worked on with coaches or what.
The way Gabbert played, if Brady leaves the Bucs after this year, Gabbert basically submitted his resume to the Bucs to be the starting quarterback for 2023.
Like Brady, Gabbert is also a free agent in two months.