Did Todd Bowles Forget About A Tight End?
January 17th, 2023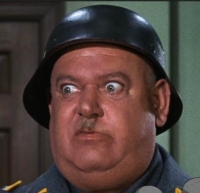 Todd Bowles' defense Monday night sure seemed like the character "Sgt. Schultz" in the 1960s campy sitcom "Hogan's Heroes."
The lummox/village idiot of the show was the POW camp's sergeant, "Sgt. Schultz." Whenever he noticed contraband of some sort in the prisoners' barracks, he would turn his head and say to American POW officer Col. Hogan, "I know nothing — NOTHING!"
That seemed to be Bowles tonight. He forgot his defense had to cover the tight end.
Dallas tight end Dalton Schultz ate the Bucs alive in the first half with four catches on four targets for 59 yards and two touchdowns. Even rookie fourth-round pick tight end Jake Ferguson had a 34-yard catch-and-run.
Schultz ended up with 95 yards on seven catches with eight targets. He had two touchdowns.
Schultz — the tight end — was wide-arse open any time he wanted to be. It was sick. It really was as if the Bucs forget that a tight end was allowed to catch a ball.
The defense was poorly prepared, that was very apparent. For the Bucs to come out on national television and for the defense to get torn up as it did in the first half is absolutely shameful. And that is on Bowles.
The season is over. There will be many changes.  The Bucs have a lot of free agents, not even counting Tom Brady. Surely, the team will have a new offensive coordinator in a few weeks, no? Joe simply cannot fathom how the team could even contemplate much less justify bringing failed Byron Leftwich back.
Meanwhile, Bowles might have to brush up on how to defend tight ends. No more of the Sgt. Schultz defense — "I know nothing — NOTHING!"