Byron Leftwich Is Fired
January 19th, 2023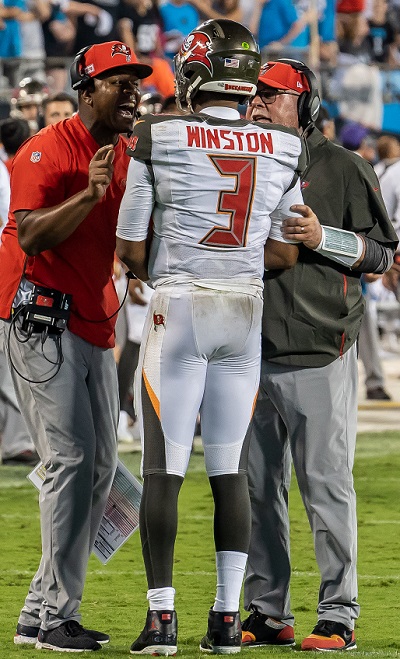 Joe salutes Byron Leftwich's four years of Buccaneers service, though the 2022 season deserves a middle-finger salute.
Leftwich, the 43-year-old former Bucs quarterback, arrived with the Bucco Bruce Arians regime in 2019 and from Day 1 Arians said Leftwich was calling the plays and running the offensive ship every week. He was no puppet playcaller, Arians insisted for years.
In 2019, the Bucs offense hummed despite Jameis Winston's interception obsession. Leftwich seemed to be growing into his role and the 2020 transition to Tom Brady was rather smooth, even if it started with Brady getting in hot water for visiting Leftwich in South Tampa during the COVID lockdown.
If there was any doubt Leftwich was fully in charge of the offense during the Arians years (and there was plenty), that evaporated this season when Arians retired in March.
Leftwich clearly called the shots and presided over a historic dropoff in production. The Bucs even flirted with having the worst single-season dropoff by an offense in modern NFL history.
In Monday's playoff game, the Bucs managed just 14 points — only 4 1/2 below their season average. They averaged over 30 points per game in 2020 and 2021, and more than 28 points in 2019.
Brady said last month that he talks to Leftwich 100 times a day. Whatever they were talking about wasn't working.
That's why Leftwich has been fired.
Leftwich's failures were all about adjustments (he didn't adjust) and being horrible at scheming a running game. Even if head coach Todd Bowles gave Leftwich new parameters in which to operate the offense, Leftwich didn't adjust to them and failed.
Injuries were not a legitimate excuse. The Bucs had their share but not enough to excuse Leftwich taking the offense into the toilet with Tom Brady starting every game with big-gun receivers and an offensive line that was at least average.
Leftwich earned his inevitable firing, which Joe has been documenting since the Bucs went to Pittsburgh and didn't take advantage of the Steelers playing without T.J. Watt, Minkah Fitzpatrick and additional starters in their secondary. Then the Bucs' followed that up a week later by posting three points — Three! — on the lowly Panthers.
Leftwich will now be forced to adjust — to a new job.
Joe thanks Leftwich for his service. His hand in the Bucs' winning a Super Bowl can never be taken away.