"I Talk To Byron 100 Times A Day"
December 15th, 2022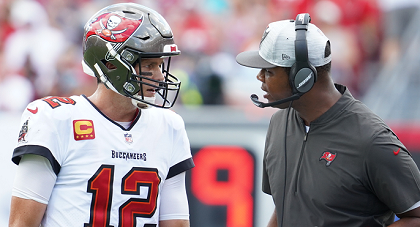 Tom Brady's Tampa career started with an unauthorized and mysterious COVID lockdown visit to Byron Leftwich's house in South Tampa.
It's a great tale in Bucs' lore. Brady went to the wrong house and walked in on a random dude with what appeared to be a bag of footballs.
It seems Brady remains in tight contact with Leftwich. That may seem stupid to type, but there were reports Monday of Brady going rogue when it comes to tweaking the playsheet and not telling coaches.
Brady was asked about that today and implied that was ridiculous. Later, Brady was simply asked generally about the quality of his communication with coaches when it comes to input into plays.
Brady seemed surprised by the query and, apparently, felt compelled to mention his tightness with the failing Bucs offensive coordinator.
"I have a great relationship with Byron. I talk to Byron 100 times a day. We talk about everything," Brady said before concluding the media session.
Maybe Brady is the guy who has kept Leftwich employed? If they're that tight and working shoulder-to-shoulder texting and talking as often as teenage girls, then Brady may think Leftwich is the right guy to dig him out of the mess that is the Tampa Bay offense.