Another Reason Tom Brady Wants To Play Sunday
January 5th, 2023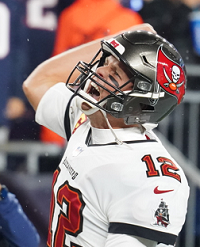 Joe will call this answer Brady Math: 97-for-139 for 995 yards, 10 touchdowns and 1 interception.
So what's the question?
The question is what are Tom Brady's passing stats in his last three games against the Falcons defense led by coordinator Dean Pees. It's not fantasy football silliness. Brady carves up the Atlanta defense that ranks 31st in the NFL in sacks.
No wonder Brady is itching to play Sunday!
Every offensive player wants to face a defense he reads like a book and a pass rush as impotent as the Bucs' running game.
Brady was asked today if he thinks players think about personal achievements in a Week 18 meaningless game. Brady dodged the question, but rest assured players care about their numbers.
Heck, Brady is a free agent in nine weeks. He knows stats and perception matter. In past years the Bucs and Brady have gone out of their way to help players meet cash incentives in the season finale. Joe remembers how Ronald Jones got screwed so Antonio Brown could get help paying legal bills.
Joe really wants Brady to have a big game on Sunday. Even though he's The Goat, he's still human, and it would represent a shot of confidence entering the playoffs.