"We Want To Get That For Him"
January 5th, 2023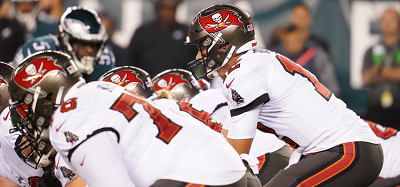 His teammates want to present Tom Brady with a consolation prize after a rough season.
With a win Sunday in Atlanta, not only will the Bucs enter the playoffs on a three-game winning streak, they'll make sure Tom Brady avoids the first losing regular season of his legendary 23-game career.
Michael Jordan had losing seasons, so did Joe Montana and Peyton Manning.
Mike Evans said today the 8-8 Bucs want no part of putting a loser stamp on Brady's résumé.
"We want to get that for him," Evans said, noting players care about records, stats and cash incentives because they're "human."
Joe doesn't want see anything associated with Tampa Bay become a stain on Brady's legacy. A win Sunday would keep his streak alive, plus nobody wants Derek Jeter to be the modern standard for 20 years of playing and winning. (Joe hates the Yankees.)
If the Bucs are going to roll the dice Sunday and play starters against a division rival on turf in a meaningless game, then go win the damn thing.