"We Can't Play Us And Them"
December 13th, 2022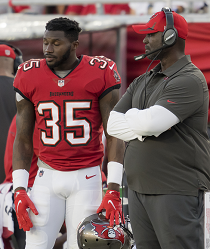 Lots of soul searching going on at One Buc Palace.
At 6-7 coming off a blowout loss to a 49ers team that doesn't humiliate many opponents, Tampa Bay is a bad football team (as difficult as that is for Joe to type and to believe).
So where do the Bucs go from here and how will they attack the Bengals (9-4) on Sunday at The Licht House?
Todd Bowles was asked about Bengals prep yesterday on SiriusXM NFL Radio and shut it down quickly. Bowles said the Bucs have enough of their own self-inflicted issues to keep them busy.
"We can't play us and them. We understand that part," he said.
In many ways, the Bucs might be best off cleaning up their own messes in run defense and when it comes to execution on offense and special teams. But Joe believes if they were capable of that, most of those woes would be fixed by now.
Regardless, getting the best out of the Bucs should be Bowles' focus. bediscovering Blocking and tackling and energy might be more important than scheming this week.