Tom Brady Ranks Third In NFL With 4,178 Yards Passing
December 26th, 2022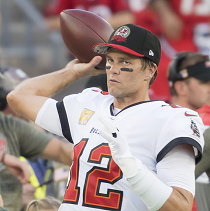 Tom Brady would love a great short game on the golf course, but instead he has one on the football field.
Somehow, Brady has dinked and dunked his way to 4,178 yards passing this season. That's third-best in the NFL behind Patrick Mahomes and Joe Burrow.
And to think some people think Brady is washed! Pffffttt. 
Joe is not delusional. Brady looks like he has taken a major step backwards from the guy who should have been NFL MVP last season. But Brady remains a viable quarterback who is an absolute surgeon in the four-minute and two-minute offenses.
However, as Peyton Manning famously said of his then-record number of fourth-quarter comebacks, all those late comebacks represent him playing like sh*t in the first halves of games. Brady has a lot of that going on — too much.
Still, a 45-year-old QB is leading the NFL in passing yards and attempts, and he's crazy committed to improving even if he's struggling to do so.
Joe would love to see what would happen if Donovan Smith and Ryan Jensen could get back on the field healthy in January. Maybe, just maybe, Brady has a flashback run in him when the brightest of lights turn on.
If Brady had been sharp last night against Arizona, the Bucs certainly would have avoided overtime, and they probably would have won going away. But back again for Brady were the off-target throws, the underthrows and the dangerous decisions.