"He's The Smartest"
December 26th, 2022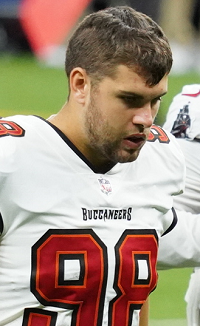 If you wagered that outside linebacker Anthony Nelson would have more sacks and tackles than Joe Tryon-Shoyinka this season, then your bet is looking pretty good.
Nelson leads those in-house battles with two games to play, despite him playing more than 200 fewer snaps than JTS.
Last night was one of Nelson's better games. He notched sack No. 4 1/2 this season and had four combined tackles and a forced fumble.
Head coach Todd Bowles lauded Nelson during his postgame news conference. The praise from Bowles was significant because he loves smart players, so Nelson got one of Bowles' biggest compliments.
"He's been playing tough the last couple of weeks. You know, Nelson is probably not the most athletic and the most fluid of the bunch, but he's the smartest and he's long and gangly. And he makes play," Bowles said. "He's extremely tough with his arm length and he can use everything, and he knows what to do and he always comes up with a play. That's kind of what we see in practice, what we saw tonight."
Joe is especially dialed into Nelson's play, and the play of Tyron-Shoyinka. Without Bucs sacks king Shaq Barrett, the Bucs need at least one of those guys to step up if they want to have a prayer against a stud postseason passing attack.