Tom Brady Clinches His First Eight-Loss Season
December 18th, 2022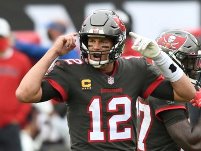 More history coming from our beloved Buccaneers.
Today was the first time Tom Brady lost a game after having a 17-point lead at halfime, and he locked down the first eight-loss season of his 23-year career.
Of course, Brady had a big hand in the mess. He had an excellent first half followed by arguably the worst third quarter of his career.
"Two fumbles, two interceptions. You can't win football games like that," Brady said after the game. And yes, those turnovers have Brady's name on them.
Still, Brady is better than most NFL quarterbacks, is certainly the best QB in the miserable NFC South, and the Bucs would be lucky if he returned next season. Hell, he might even play well in the playoffs next month. So it's a black mark on Bucs history that Brady's worst season came with him wearing a Tampa Bay uniform.
Joe wonders what Brady will be thinking about tonight when his head hits the pillow after he scrubs another "L" off his forehead.