Todd Bowles Calls Out Leaders To Step Up, Says Bucs "Can't Piss Away Anymore Ballgames"
December 1st, 2022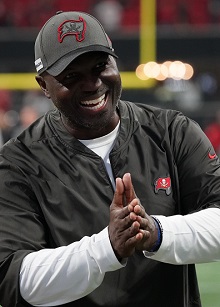 Bucs players better step it up, especially the big-name leaders on the roster, says Todd Bowles.
Joe found that slightly ironic considering Bowles didn't give Vita Vea and Akiem Hicks that chance in the biggest play of Sunday's debacle in Cleveland.
But Bowles was accurate in his rant on the Buccaneers Radio Network. The Bucs need more big plays from their big-time players. However, during Bowles' entire appearance this week he sounded like a head coach giving himself and his staff a pass for the Bucs' sad record.
"It's a players team. Every team that has winners that wins is a players team," Bowles said.

"The leaders lead and everybody else follows. So it's time for our leaders to lead and step up. And everybody else has to follow, and make plays. Not just lead but make plays. And show'em by example, show'em by being vocal, show'em by how they practice. And they've been doing that for the most part but, you know, we can't piss away anymore ballgames sort of speak. So it's time for us to step up and make plays. We got six games left until we gotta get in the tournament."
Again, Joe found this ironic since Bowles on Sunday denied his leaders, including Tom Brady, opportunities to make the plays he called for on radio.
Punting on 4th-and-2 from the Browns' 37 yard line, and again from Browns territory in the fourth quarter, are great examples in addition to keeping Vea and Hicks off the field at the end of regulation.
Remember, Bucco Bruce Arians publicly said he handed Todd Bowles the head coaching job so he could lean on Brady rather than Blaine Gabbert or Kyle Trask.
---
An Instant Classic Ira Kaufman Podcast As The Sage Addresses Colossal Bucs Underachievement And A Landmark Loss
Flash poll posted at 6:12 a.m. Last week's poll results linked here.