"They Willed Us To Victory On That Side Of The Ball"
December 7th, 2022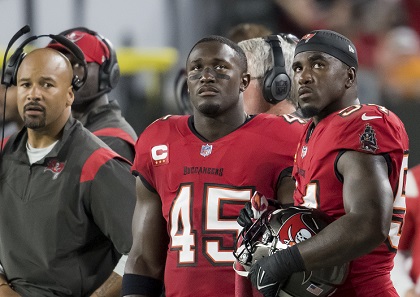 While the nation is obsessed with Tom Brady's magic to conclude Monday night's game, that's not the sole focus at One Buc Palace.
In fact, it might not be half the focus when it comes to edging the slimy Saints 17-16.
Joe found it telling when head coach Todd Bowles said yesterday on the Buccaneers Radio Network, following a complete film study of the comeback win against New Orleans, that his defense "willed us to victory on that side of the ball."
Yes, Bowles shared his love for Brady's inexplicable and legendary command late in games, but Bowles is put the heftiest credit on his defense.
It's understandable considering the Bucs have allowed 17 or less points in regulation time over the past four games, three of them victories. And it was the defense Monday that bailed out the Bucs' miserable offense over and over and over again.
If only the Bucs had a decent offense, they'd be at least sitting pretty in the NFC with an 8-4 or 9-3 record, and Antoine Winfield, Jr. and Tristan Wirfs likely wouldn't be injured because there never would have been an overtime against Cleveland.
Is the Bucs defense good enough to win a playoff game without much help? Hopefully that question doesn't have to be answered.