The Bigger Fumble
December 18th, 2022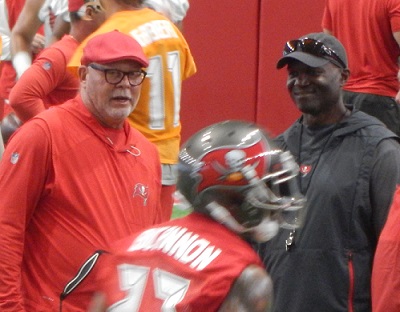 Joe is wondering which is worse, the bobbled handoff between Tom Brady and Leonard Fournette this evening or the one from Bucco Bruce Arians to Todd Bowles.
The former resulted in a turnover and replays showed it was Brady's fault. The ball squirted out of his hand before the exchange.
As for the latter, well, Bowles was handed a large and experienced Super Bowl coaching staff with a roster full of seasoned and tested veterans. But somehow players and coaches often look like overmatched rookies in their roles.
How does that happen?
After today's game, Bowles talked about how his Bucs don't handle adversity well. That had Joe firing a Big Storm beer against the wall of JoeBucsFan.com world headquarters. No, Coach, today you didn't handle success well.
The Bucs jumped out to a 17-3 halftime lead and got the ball to start the third quarter, and then the Bucs proceeded to look like a club uncomfortable playing in that situation — at home.
Joe has seen more poise from a winless junior varsity girls basketball team taking its first fourth-quarter lead of the season.
Reasoned and seasoned Bowles went full blown panic mode calling for a fake punt on his own 26 yard line with a 14-point lead.
Then Tom Brady turned into a jumpy rookie handing out turnovers on four consecutive possessions. And the third quarter also featured Lavonte David and Ko Kieft getting hit with big penalties while Russell Gage had a crushing drop. (Joe will give Deven Thompkins a break because he's a total newbie rookie, but rookie Kieft has played long enough to know better and his five penalties this season put him atop the NFL's list of penalized tight ends. Stop holding!)
Bucs coaches were never able to adjust successfully and it sure seems like Brady, who was used to 22 years of hard coaching, may be falling apart without that in-your-face coaching style from Arians and Bill Belicheat.
No matter how you spin it, the Bucs look like a team lacking leadership and effective direction.
Joe sees no evidence that the Arians-Bowles succession plan has worked, a costly late-March fumble that is delivering a lot of pain and remorse.