Telling Bruce Arians Comment On Byron Leftwich
December 22nd, 2022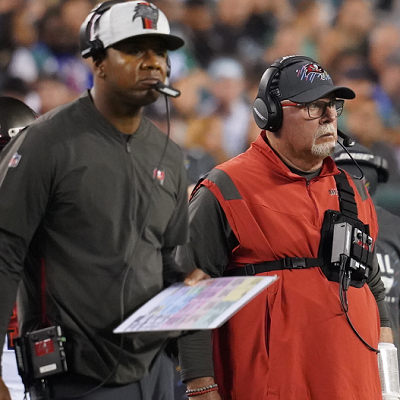 Good luck explaining this one.
Bucco Bruce Arians chatted with TampaBay.com for a Wednesday story and strongly implied that offensive coordinator Byron Leftwich has been strong-armed by someone in the Buccaneers' organization.
Is that Tom Brady, as Rich Eisen seems to believe, or is that Todd Bowles wielding his influence? Or is Arians just blowing a bunch of cigar smoke to help cover for his failing former sidekick?
"Tom has played great. He played really good the first half [against the Bengals]," Arians told TampaBay.com. "We got our shots downfield. We looked like us. The first half was the first time I've seen this year when Byron said, 'Screw it, I'm going back to being me.' This was a game Mike [Evans] should've had 200 [yards]."
Arians' comment on Leftwich saying, 'Screw it. I'm going back to being me,' conjures several thoughts at JoeBucsFan.com world headquarters.
First, if Leftwich had the freedom to say, 'Screw it,' then what took so long?
What force was so powerful to drive Leftwich to change his approach to an offense that had great success?
And why didn't Bowles come to Leftwich weeks ago and demand he return the offense to what was working in 2019, 2020 and 2021? Unless, of course, Bowles is the guy who was overriding Leftwich to begin with.
Lastly, if Arians is in constant contact with Leftwich, as he told JoeBucsFan.com columnist Ira Kaufman, then surely Arians was advising Leftwich to get back to being himself (aka running Arians' offense). So who was a stronger voice in Leftwich's ear?
Joe has no answers. But what Joe can't believe is that Tom Brady is a quiet, yes-sir figure when it comes what's changed in the offense, and Joe doesn't give career football man and highly intelligent head coach Bowles a pass because he ultimately presides over the offense.
If Arians isn't blowing a bunch of BS for Leftwich with that comment, then there's real hope of the Bucs offense exploding in the final weeks of the season, assuming Brady doesn't give the ball away like he's Jameis Winston and Leftwich retains his nerve.
---
Todd Bowles Confidence Poll (Week 16)
Flash poll posted at 4:50 a.m. Poll closed at 10:23 a.m. Last week's results linked here.