Rare Tom Brady Comment About Todd Bowles
December 15th, 2022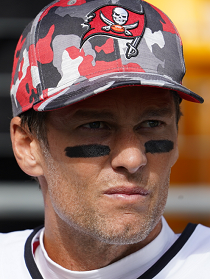 Joe nearly spilled an open can of Big Storm beer (Sunny Key Lime) during today's Tom Brady news conference.
Brady, The Goat himself, mentioned/referenced Todd Bowles. That's a rarity, a serious rarity.
"I really appreciate what Todd's doing. He's putting it on us to fix it," Brady said when talking about what it will take to right the Bucs' unsteady ship.
Asked to elaborate, Brady said Bowles has "just really allowed the leaders to take charge." Brady added that Brady has told the team that coaches will coach them up but it's really on them to get the job done.
The message was clear, Bowles isn't freaking out and he's staying the course and leaning on dudes with Super Bowl rings to make sh*t happen and earn their paychecks.
Joe was glad to hear Brady reference Bowles without being prompted. Sometimes Joe wonders about the relationship there and whether it's not what it should be.