Protecting The Home Team?
December 11th, 2022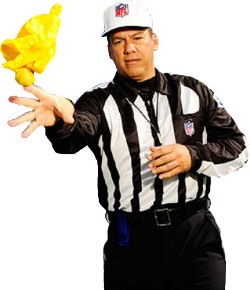 Joe doesn't like to rag on referees unless there is a galling call so bad blind people are offended.
If you block and tackle and catch and execute, ten you can overcome bad calls. Joe has always believed that.
And it is not like the Bucs haven't taken advantage of a blown call. You know, like when the Bucs hosted the Dixie Chicks earlier this year and Atlanta was flagged for a phantom roughing-the-passer penalty that killed their comeback hopes?
Talking to players tonight in the locker room, officiating came up more than once. Yeah, there was a lot of chatter about the roughing-the-passer call on Keanu Neal to begin the game. Neal thought he had a textbook hit on Mr. Irrelevent, Brock Purdy. So did Joe.
"We had a lot of calls and they didn't," Carlton Davis told Joe. "I'd like to know why."
San Francisco had two penalties for 15 yards. The Bucs were hit with eight flags for 62 yards. The two killers were Neal blasting Purdy and Donovan Smith's holding call that wiped out Mike Evans' 68-yard touchdown.
Brad Allen and his outfit worked the game. History shows that Allen and his gang are notorious home-cooking refs. Wise gamblers know this and have made money off Allen.
Did the calls paint the Bucs into a corner? Sure. But hey, eight penalties were eight plays flagged. What about the rest of the plays? The Bucs stunk the rest of the game.
So this is a reason Joe rarely blast referees. Teams have the power to overcome bad calls with solid play. Today, the Bucs played like trash so "this Joe" cannot rip the officials if they had a trash call here or there, although the other Joe already did.