Horrendous Officiating Made Its Mark
December 11th, 2022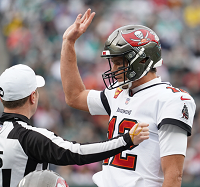 Make no mistake, Joe knows the Bucs are a bad football team, but the referee calls were going against the Bucs in a huge and impactful way.
Here's a few examples, just from the first half:
*See San Francisco's opening play of the game. Neal doesn't lower his head. You be the judge in the video below.
*Brady gets slapped in the back of the head — long arm direct hit — and there's no flag thrown.
*Replays showed Chris Godwin was clearly interfered with at the goal lone on a 3rd-and-short pass in the red zone. Tom Brady screamed at the officials. The Bucs failed on 4th-and-goal.
*With the Bucs trailing 21-0, Carlton Davis was called for defensive holding at the line of scrimmage on a receiver who simply fell down. That wiped out an Anthony Nelson interception near the Bucs' 35 yard line. On the next play, an ugly non-call of holding against Anthony Nelson saw referees ignore the San Francisco tackle pull a giant fistful of Nelson's jersey — to the point it looked like it was stretching to the point of ripping; they play resulted in a 49ers deep-throw touchdown.
*San Francisco was called for 1 penalty to 5 for the Bucs. C'mon.
Gene Deckerhoff calls Keanu Neal's sack on the first play of the game (dogshit roughing the passer call btw) #GoBucs #TBvsSF pic.twitter.com/nNosSXaUhM

— Bucs Rays Bolts (@BucsRaysBoltsYT) December 11, 2022