Underwhelming And Underthrowing Tom Brady
December 11th, 2022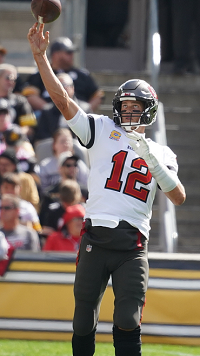 It is fair to ask whether Father Time is gaining ground as he tries to run down Tom Brady.
Brady is still winning the race, but Brady today reminded Joe of a Kentucky Derby pace-setter who is about to get swallowed up by a closer going four-wide down the stretch.
It's December, and Tom Brady is not playing his worst football. When's the last time that happened?
Brady's opening drive today saw him throw wide of Julio Jones on a key 2nd-and-9 toss to a wide open Julio Jones. The Bucs failed on 3rd-and-9 and Todd Bowles opted for an ill-advised 55-yard field goal that missed.
Ok. So Brady missed a throw. Big deal. Well, he missed other key throws including too-short deep balls that were downright scary. Stop underthrowing Scotty Miller, Tommy! The guy can run.
With the game still in reach and the Bucs trailing 21-0 on 4th-and-2 from the 49ers' 9 yard line, Brady threw crazy low to Mike Evans in the end zone. That was probably the ballgame right there.
"I made a shi**y throw to Mike. I mean at the end of the day that's a terrible throw," Brady said after the game.
It certainly was.
The Bucs' loss hardly was all on Brady, but he had a poor game that included two interceptions.
Was Brady's right hand injured after a follow-through belted a 49ers' helmet? Brady denied it, though he could be fudging the truth.
Regardless, if Brady is on the field, then he has to produce. If the Bucs can't knock off the Bengals next week, hopefully Brady can at least take out the knees of Father Time with a strong day.