O-Line Grade And "Shape Shifting"
December 20th, 2022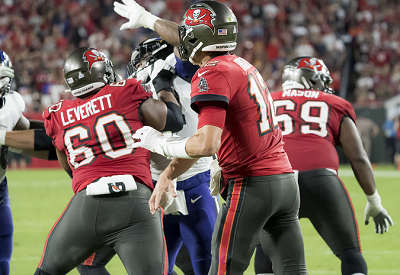 So what went wrong in the third quarter on Sunday? It had to be more than Tom Brady giving the ball away personally on four consecutive possessions.
Bucs starting left guard Nick Leverett offered a thought on the historic collapse during his visit to the Buccaneers Radio Network yesterday.
After a day to think about it, Leverett dropped this gem. "It was just a world of like emotions and shape-shifting and stuff like that. It was just crazy," he said.
Leverett said among the breakdowns were the basics. "Communication" and "being on the same page" slipped in the second half," he said. Joe can't explain why that happens to a veteran offense with Tom Brady at quarterback.
As for the offensive line, Leverett speculated the line as a whole would get a passing grade from Bucs coaches, "C, C+, maybe a B."
Joe finds it hard to believe the line would get a "B" for the day. It looked more like a C+.
As for the shape-shifting, that sounds plausible to Joe. That could be one plausible reason for calling for a fake punt with a two-score lead on your own 26 yard line, and for the greatest quarterback in history completely falling apart on the field so abruptly.