Last Playoff-Caliber Test Before The Playoffs
December 18th, 2022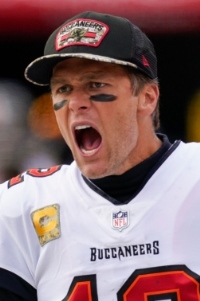 After today's clash with the Bengals, the Bucs won't play a good team — a winning team — for the rest of the regular season.
Next up are the godawful Cardinals and their backup quarterback, followed by the bumbling and pseudo-tanking Panthers and then the Falcons, losers of four of their last five games who are handing the ball today to their rookie third-round pick of a quarterback.
Simply stated, the Bengals are the Bucs' last chance to test themselves against a legitimate playoff team before the postseason begins.
Wait a minute Joe! The Bucs aren't guaranteed a playoff spot. True, but they have a lead in the NFC South and are the most talented division team with four games left. The odds are heavily in Tampa Bay's favor to be playing on Martin Luther King weekend in Tampa. So Joe really, really wants to see how the Bucs stack up today against powerful competition. It's a chance for the entire roster to gauge where it stands.
The past is irrelevant, such as the Bucs clubbing the Seahawks in Germany or getting hammed at San Francisco last week. Where are the Bucs today? That's what Joe is hungry to see.
Moral victories are for losers, but Joe would be ok with the Bucs only being competitive today, if they put up points and stay within one score.
Again, it sounds like a line directly out of the loserville playbook. But as ugly as it is to type, Joe would feel pretty good about the Bucs if they lost , say, 27-24 today. That would be a major step up in performance, and it would give a lot of Bucs fans a shred of confidence going forward.