Prevent Offense
December 20th, 2022
Sunday in the first half playing one of the best teams in the NFL, the Bucs looked like they were supposed to when the season started.
They jumped out to a 17-0 lead. And it was a two-touchdown lead at halftime. At home.
Then, it looked as if failing Bucs offensive coordinator decided he was going to sit on the lead. As some old school coaches would call it, "protect the lead."
The Bucs did just the opposite. Somewhere in Louisiana, Jameis Winston had to shut the game off he was so embarrassed watching Tom Brady cough up four turnovers on successive possessions.
Jameis never did that.
It was like two different offenses from the first half to the second half. And Jenna Laine of ESPN has data that proves the Bucs changed their offensive philosophy at halftime for reasons unknown.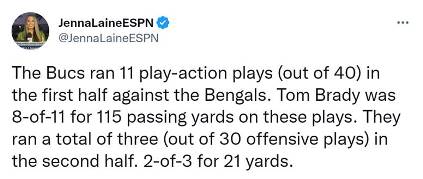 Joe's 11th Commandment is "Thou shalt not fix what is not broken." Someone (Leftwich? Todd Bowles? Brady?) decided to fix an offense that was working just fine at halftime.
We all saw the result.
Of course, Leftwich later this week will stand up before the local pen and mic club and get all haughty and scoff about "fantasy football stats" and claim he has no idea what anyone is referring to when they bring up these play-action numbers — hard facts. It just blows Joe's mind this guy runs an NFL offense.
Such irresponsible coaching.