49ers 35, Buccaneers 7
December 11th, 2022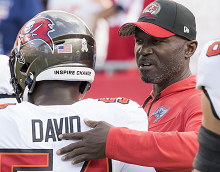 Just think of what the Bucs have accomplished since Thanksgiving, the calendar date after which many NFL types, including Tom Brady, say is when the games matter most: Tampa Bay lost to the miserable Browns, needed a historic miracle to beat the slimy Saints, and then today were hammered by a rookie QB making his first start.
Our beloved Buccaneers are not ready for prime time, and they may now be in a struggle to make the playoffs after getting clobbered by the 49ers today (more on that later).
Todd Bowles' defense wasn't ready today. The offense was sputtering from the opening whistle. The referees were working against the Bucs. And Bowles' team looked overmatched and outclassed again.
Joe is depressed. The Bucs' run defense was humiliated. And a rookie quarterback was nearly perfect against Tampa Bay. That's a playoff defense? Pffffft.
Joe's in disbelief, not that the Bucs lost, but because they were so damn bad.
Bowles has proven himself to be a miserable head coach through 13 games. What else can one conclude with the Bucs having a 6-7 record in a brutally miserable NFC South?
Who should Joe celebrate today? Rachaad White playing rather nicely despite fumbling for the second week in a row? Tom Brady not taking a sack despite nearly 60 dropbacks? Logan Ryan looking healthy? Deven Thompkins looking like a legitimate returner in his first shot at the position?
That's how bad it was.
With a real shot at the No. 3 seed with a win today, the Bucs crapped the bed. Non-competitive football in December is a bad, bad look, the kind that gets a head coach on a hot seat.
Carolina (5-8) hammered Seattle (7-6) today to pull within a game of the Bucs in the NFC South, and the Panthers currently own the tiebreaker edge on the Bucs. The teams face each other on New Year's Day at The Licht House on Bruce Arians Day, when chants of "We Want Bruce" are sure to emerge.