Weaponized At Punter
November 14th, 2022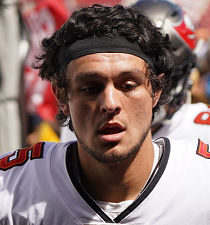 Congratulations to rookie Jake Camarda for just about forcing Joe to write about punting.
What's more boring than punting? But that applies to average punting.
Terrible punting and exceptional punting, however, are meaningful and rare. Camarda is one of the best in the league and is steadily improving. He may finish the season as one of the greatest rookie punters in history.
The dude is proving to be a game-changer.
Consider that Camarda won the NFL special teams player of the week award last week for his showing against the Rams.
Then he comes back yesterday and has NBC Sports super insider Peter King labeling Camarda this week's special teams star of the week.
Camarda cranked out two bombs yesterday — his only two punts — a 59-yarder and a 63-yard explosion that was fair caught at the Seattle 30 yard line with about 90 seconds left in the first half.
When's the last time you saw a 63-yard fair catch?
General manager Jason Licht might be caught flexing his fourth-round muscles over the bye week. That's where Licht snagged Camarda and starting rookie tight end Cade Otton, who already has 26 catches.