The Cade Otton Rise Continues
November 13th, 2022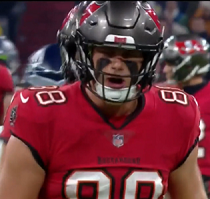 Joe is fired up about the growth of tight end Cade Otton because it's desperately needed if the Bucs are going to become a lethal offense again.
What the Bucs need at TE isn't going to come from Cameron Brate.
Sure, Brate probably has a few big catches left in him this season, but Otton is the only tight end on the roster capable of changing defenses.
He's got enough speed, good hands, and Tom Brady showed again today that he trusts Otton down the seam. The Bucs' final scoring drive featured a huge Brady step-up and throw to Otton into the red zone for a 25-yard gain.
What a way to start the fourth quarter that was!
The replay shows the Seattle safety shading toward Chris Godwin and reacting too late to Otton's quality route down the left seam. The rookie held on and took a big shot for the first down, which led to the Bucs taking a 21-3 lead.
Otton has 26 catches for 281 yards this season in nine games played. Darn good for a fourth-round pick, but more important is the trust he's building with Brady and how Otton is looking more dangerous.
Fast-forward to late December. Imagine if Otton is a consistent threat and Chris Godwin, Julio Jones and Mike Evans are healthy, along with a halfway decent running game.
That's an offense good enough to beat anyone.