Tom Brady Says He Watches The Patriots "Every Week"
November 7th, 2022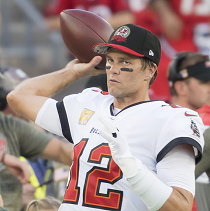 Tom Brady was talking tonight on his Let's Go! show on SiriusXM Mad Dog Radio dropping all kinds of non-illuminating answers when it comes to the Bucs.
Brady clearly sounded relieved by Tampa Bay's win yesterday and mentioned how the team keeps working harder and isn't getting results to match the effort. An extended losing stretch is foreign territory for Brady and he's dealing with the frustration along with teammates as they grind together, Brady said.
He expressed all kinds of love for the Bucs defense and noted that rookie punter Jake Camarda deserved the game ball he got from head coach Todd Bowles after yesterday's win against the Rams.
Brady was asked about passing the 100,000 passing yards milestone and about how Bill Belicheat is closing in (two years away?) on Don Shula's career NFL wins mark as a head coach.
Joe was not surprised to hear Brady express his admiration of Belicheat; he's done it on past shows. But Joe was intrigued to hear Brady say he watches the Patriots every week.
"I just watch that team every week and [am] impressed by how they prepare and the accountability that that organization has had. And it starts at the top," he said.
Joe wonders if Todd Bowles has approached Brady and picked his brain about the Patriots operation and asked what Brady thinks about how the Bucs could improve their weekly preparation.
Or perhaps Bowles already heard all about that two years ago.