The Tom Brady-Todd Bowles Disconnect
November 7th, 2022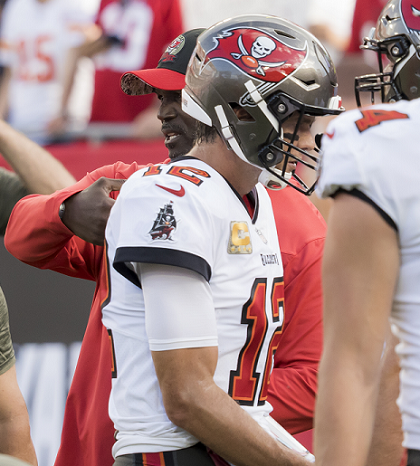 After such a bizarre and ugly game that delivered a thrilling Bucs "W" yesterday at The Licht House, it's a great time to share one of the more bizarre phenomena of this season.
The photo above is about as rare as an alligator sighting at the beach or steamed broccoli on the lunch plate of Ira Kaufman.
The iconic JoeBucsFan.com photographer has tried repeatedly — and failed — to spot head coach Todd Bowles and Tom Brady together and take a picture. Yesterday, the image above was captured. There was no conversation, only Bowles patting Brady on the back as The Goat walked by prior to kickoff.
It's the only photo JoeBucsFan.com has of the pair together, and that includes practice and training camp.
Joe reached out to multiple industry sources who advised Joe that the USA Today image database has no photo of head coach Bowles and Brady together — and that Getty Images doesn't share one, either. (But they do have shots of Brady and Byron Leftwich mis-tagged as Brady and Bowles).
A Google image search reveals one photo of Brady and Bowles engaging, though Joe's research shows the picture is from last season — before Bowles was named head coach. Network TV cameras, it appears, also have failed to capture Brady and Bowles together. And lastly, Joe talked to a Tampa journalist and was advised that his outlet gave up on capturing the two of them engaging.
Joe finds it very strange that a new head coach would be so disconnected from his superstar quarterback.
The photo above also is about as rare as Brady mentioning Bowles at a news conference or on his weekly podcast.
There was so much pregame chatter last week and on Sunday about how Bucs officials are unhappy about the Bucs' low total of run plays and how change in that area is coming. Even general manager Jason Licht dove in on the Buccaneers Radio Network just minutes before kickoff, "We need more balance, more rhythm on offense … can't have the defense on the field two-thirds of the time in the second half," he said.
Meanwhile, the coach in charge seems to have zero communication with the 45-year-old quarterback who has a big hand in making sure the Bucs run the football.
Bucs fans also have seen that when there's a timeout and the Bucs have the ball, offensive coordinator Byron Leftwich walks onto the field alone to talk to Brady.
It's all rather mysterious and Joe thinks Bowles and Brady connecting directly during games once in a while would be beneficial — and certainly more normal.