Ira Kaufman's 10 Takeaways From Bucs-Rams
November 7th, 2022
BY IRA KAUFMAN
The only Tampa Bay snap that gained more than 20 yards may have just triggered a massive turnaround.
We won't know for sure until late November, but that 28-yard strike down the middle to rookie tight end Cade Otton could emerge as the catalyst for a Buccaneer surge.
The situation appeared daunting when Tom Brady took the field with 44 seconds remaining at his own 40 with the Bucs down 13-9. Ryan Succop had supplied Tampa Bay's only points and the Rams must have figured Brady didn't have enough time to cover 60 yards with no timeouts remaining.
And there was Otton, who would end up catching five of the six balls sent his way, including the game-winner from one yard out. The line did its job, keeping Aaron Donald out of Brady's grill, and Otton found an open seam against a hard to handle defense that suddenly turned soft.
Instead, it was the Buc defense that deserved this win. All you need to know is Los Angeles finished with as many punts (9) as first downs.
That 3-game slide is now history, making for a much more enjoyable flight to Munich.
Brady topped the 100,000-yard passing plateau in his majestic career and he passed the Rams dizzy on that final drive. He went 5-for-5 against a defense that foolishly believed time would run out on a quarterback who has made his bones engineering late comebacks.
The Rams needed this game as much as the Bucs, perhaps even more considering the comparative strength of their respective divisions. For 59 minutes, Donald and company kept Tampa Bay out of the end zone.
Then Los Angeles made its fatal mistake — forgetting that the clock rarely runs out on Tom Brady.
Here's how the Bucs joined Atlanta atop the NFC South and rewarded a stout defensive effort:
* Special teams, led by rookie punter Jake Camarda, played a pivotal role all afternoon. Camarda averaged 59.5 yards on four punts, including a 74-yarder that tied a franchise record. Succop kicked three field goals and he can't be blamed for Bobby Wagner's deft block. Jaelon Darden did a nice job returning eight punts. As a result, the Bucs had a significant edge in field position.
* Carlton Davis played his best game of the year with tight coverage and six tackles, limiting yards after the catch.
* It wouldn't be a Rams-Bucs game without major production from Cooper Kupp, who latched onto eight of the nine throws sent his way for 127 yards. His 69-yard TD reception represented a rare defensive breakdown, but it reinforced his reputation as a classic Buc-killer. In five career games against Tampa Bay, Kupp has 46 catches for 672 yards and 5 TDs. "We have done a terrible job of staying ahead of the sticks," Kupp said. "The defense has done such a great job and we've let them down."
* Tampa Bay converted 9-of-21 on third down, far more efficient than the 10-for-39 success rate during the tailspin.
* Big game for Vita Vea with a pair of sacks and three of Tampa Bay's eight QB hits. Guess who also had three QB hits? If you said OLB Genard Avery, pick up your door prize.
* For most of the day, the past two Super Bowl champions were terrible on offense. For the Bucs, scoring 13 points wasn't a hiccup … it was more like a belch. During the past four weeks, the Bucs have scored four touchdowns.
* These teams entered the game with dismal running attacks. They left the stadium the same way.
* Quiet game for Mike Evans. He led all players with 11 targets but finished with five catches for 40 yards. His biggest contribution came on the game-winning drive when he coaxed a pass interference flag against rookie Derion Kendrick.
* The defending champs look like toast. Matt Stafford's arm strength looks diminished and the Rams offensive line makes Tampa Bay's front look like the 1973 Dolphins. "I just wish I would have played better." Stafford said, "because if I had played better, we probably would have won the game."
* The Bucs will feel very good about themselves if they even their record at 5-5 by beating the Seahawks in Germany, but it won't be easy. Riding a 4-game winning streak, Seattle tops the NFC West at 6-3 and Geno Smith's offense is averaging 9 more points per game than Brady's offense.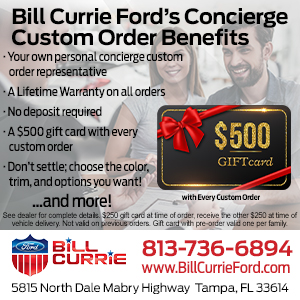 ---
Watch the Bucs-Seahawks game Sunday with Joe, Ira Kaufman and fired up Bucs fans at Big Storm Brewery in Clearwater. …. Great breakfast menu and bloody mary bar, mimosas and Florida's best craft beer. (Lunch starts at 11 a.m.) … Giveaways and more.
SUNDAY, Nov. 13, Bucs-Seahawks in Germany!
The fun starts at 9 a.m.
Join Joe and Ira Kaufman and Bucs fans!