"The Bench Is Beckoning"
November 11th, 2022
BY IRA KAUFMAN
On any list of concerns heading into the 2022 Buc season, Leonard Fournette wouldn't have cracked the Top 10.
Now, he's inching up toward No. 1.
Fournette is the indisputable poster child for the NFL's most wretched ground game and his dramatic slide has been startling. Since opening with a 127-yard effort that sparked a Week 1 victory at Dallas, Fournette's numbers on the ground have been abysmal.
Perhaps the bulk of the blame rests with an offensive line still trying to assimilate three new starters across the interior.
Perhaps Byron Leftwich isn't calling the right plays at the right time.
Perhaps opposing defenders are stacking eight in the box more often.
Whatever the reason, the Bucs can't run and Fournette can't hide.
A year after averaging 4.5 yards per carry in a potent attack, Fournette's 3.3 average ranks among the league's bottom feeders. How bad has it been? Only 10 players have more rushing attempts, yet 26 players have more rushing yards.
Fournette is frustrated with his lack of production and, quite frankly, some in the organization are frustrated with his effort.
Instead of running with determination and decisiveness, Fournette hasn't taken advantage of holes that are carved open. Through nine games, he has broken only four tackles on rushing attempts.
Fournette continues to be a dependable target for Tom Brady, credited with breaking 10 tackles as a receiver. His 15-yard reception last week on third-and-20, deftly juking a Rams defender, set up Ryan Succop's critical 50-yard FG in the fourth quarter.
But Fournette is supposed to make his living as a running back. At the age of 27, he should be in his prime. The Bucs kept him out of free agency in March by offering a 3-year, $21 million deal, with $12 million guaranteed.
Now you have to wonder whether Fournette will survive the post-Brady era in Tampa. He bristled during the Rams game when rookie Rachaad White took Fournette's place for a series, but Fournette isn't giving an embattled Leftwich much of a reason to believe.
Plummeting Numbers
With two touchdowns and a long gain of only 17 yards in 121 carries, Fournette has shown no evidence he can break through past the first level. He's the only player in the league with at least 110 carries still looking for his first 20-yard run.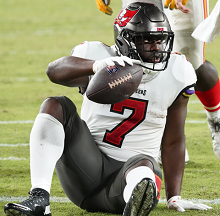 Fournette supporters can point out that White's average of 3.1 yards per carry is even worse. That's true, but Fournette is the established player who teammates and coaches counted on to spearhead a robust ground game.
Instead, Tampa Bay ranks last in rushing attempts, yards and average yards per carry.
And it's getting worse. In the past three weeks, Fournette has carried 26 times for 62 yards.
If he's injured, sit him down and give White and Ke'Shawn Vaughn more opportunities. If Fournette's healthy and he's struggling to this extent … that's even more concerning.
No defense is going to respect play-action when you haven't established a credible ground game. I'm not buying any suggestion opponents are stacking the box. Why would they? The Bucs throw on two-thirds of their snaps and the run game stinks.
The Glazers and Todd Bowles can't be happy with Fournette's plodding ways. He's not the same runner and a seat on the bench is beckoning.
He's running out of time to generate trust.
If he mucks it up in Munich, Playoff Lenny could quickly become Forgotten Lenny.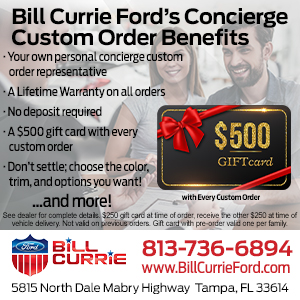 ---
Watch the Bucs-Seahawks game Sunday with Joe, Ira Kaufman and fired up Bucs fans at Big Storm Brewery in Clearwater. …. Great breakfast menu and bloody mary bar, mimosas and Florida's best craft beer. (Lunch starts at 11 a.m.) … Giveaways and more.
SUNDAY, Nov. 13, Bucs-Seahawks in Germany!
The fun starts at 9 a.m.
Join Joe and Ira Kaufman and Bucs fans! 
Breakfast menu for Bucs-Seahawks on Sunday @BigStormBrewing Clearwater has arrived!
Open & serving at 9 am – 12707 49th Street N.
Kickoff at 9:30.
Joe confirmed that @IKaufman76 is buying you 1 drink of your choice OR the "The Ira Kaufman" quesadilla. Just ask Ira BEFORE 10 a.m pic.twitter.com/recVl9O87p

— JoeBucsFan (@JoeBucsFan) November 9, 2022