Seven 3-And-Outs
November 7th, 2022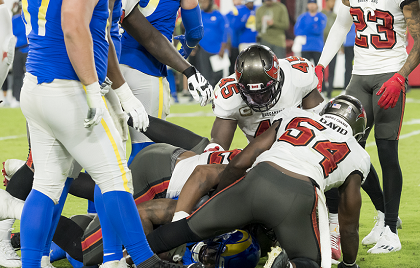 It's hard to believe the Bucs struggled mightily to beat the Rams yesterday after forcing seven 3-and-outs by the defending Super Bowl champs.
It's one thing to shut down a team, but seven 3-and-outs is ridiculous. Seven! Still, Tampa Bay needed late heroics to win 16-13.
It was the seventh time this season the Bucs have held a team to 21 points or less. They're 4-3 in those games but should be at least 5-1 if they're offense remotely reflected that the talent it possesses.
It's hard to judge how well the Bucs played defensively because the Rams were so anemic outside of their small handful of big plays. Joe has to dive into the film, but certainly the Bucs got a lift from the return of Sean Murphy-Bunting and Carlton Davis.
Akiem Hicks playing as much as Vita Vea was a surprise. Hicks didn't do much but hopefully he shook off six-plus weeks of rust and will make an impact moving forward.
The Bucs' top 2022 draft pick, rookie defensive tackle Logan Hall, had by far his fewest snaps of the season (nine). Perhaps he got hurt. If not, that was a major change to the Bucs lineup. Joe already has written about how DT Rakeem Nuñez-Rochez might be the reason Bucs aren't crying in their beers this morning.
As for where the Bucs defense stands, facing Seattle on Sunday will be by far their biggest test since the Chiefs slapped them around in Week 4.