Inside Todd Bowles Not Throwing The Challenge Flag
November 7th, 2022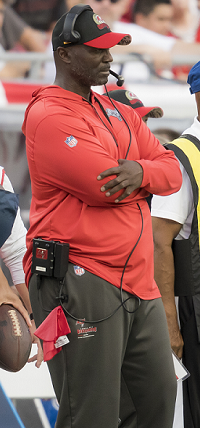 UPDATED: 12:40 p.m. – Head coach Todd Bowles was getting clobbered on social media yesterday — and questioned on the CBS broadcast — for not challenging a Jake Camarda punt that was ruled a touchback in the fourth quarter.
Camarda hammered another bomb on 4th-and-12 with 13:34 remaining from the Bucs' 34 yard line. The ball bounced near the goal line and was downed by the Bucs about the 5 yard line.
Replays and still shots (Twitter video below) appeared to show the ball never broke the plane of the end zone. And CBS was headed to a TV timeout, so there was plenty of time for Todd Bowles and his staff to study the situation and throw the challenge flag.
It never came.
The Rams lined up at the 20 yard line after a significant break and that was it.
So why didn't Bowles challenge the call to pin the Rams in their own territory?
Very late last night, a trusted source of JoeBucsFan.com told Joe that Bowles was advised by a referee not to challenge the play because another game referee told the referee who talked to Bowles that official replay showed the punt hit the goal line.
In simple terms, Bowles believed what he was hearing on the ground from a referee and went with it. You know, inside information.
Obviously, this is a highly problematic scenario for the NFL. It would be unethical for a game referee to give his take to Bowles on a key replay review before a coach threw a challenge flag. Maybe it happens all the time; Joe has no clue.
But Joe can't blame Bowles for following what might have been unethical insider information, if he indeed did that. If Bowles did, then perhaps he saved the Bucs a timeout they desperately needed to squeak out a win.
UPDATED 12:40 p.m. — Today, Bowles was asked about his decision not to challenge the touchback and admitted a referee helped him keep the red flag in his pocket. "When the ref came over and told me that they couldn't tell and they watched the replay and couldn't tell, they weren't going to change it. So there was no reason to challenge it," Bowles said.
Joe really hates the idea of referees helping coaches make key decisions. It seems outrageous. Joe wonders what the wagering police will have to say about this.
Is this punt a touchback or no? pic.twitter.com/gcSvKG3xJl

— FOX Sports: NFL (@NFLonFOX) November 6, 2022