Rock Bottom In New Orleans
November 10th, 2022
BY IRA KAUFMAN
In a professional career marked by so many setbacks, this is the low point.
A healthy Jameis Winston, the former No. 1 overall pick in the NFL draft, can't beat out a 35-year-old journeyman quarterback for the starting job in New Orleans. Saints coach Dennis Allen is sticking with Andy Dalton — and that tells you all you need to know about Winston's future in the Big Easy.
He doesn't have one.
Even at 3-6, the Saints are only one game out of the division lead in the wretched NFC South. Dalton appeared helpless in a 27-13 home loss to Baltimore Monday evening, yet Allen said after the game that he never even considered giving Winston an opportunity to spark the team.
Winston has overcome a torn ACL and a fractured back in the past two seasons, but he can't overcome the reputation he built at One Buc Place: he simply can't be trusted.
The Saints have learned it the hard way after giving him a 2-year, $28 million contract extension in March, with $21 million guaranteed.
A 1-2 start and a back injury prompted the switch to Dalton and now Winston is relegated to the bench, even though he's been declared 100 percent healthy.
How did he sink this low?
No matter what his handlers will tell you, Winston has only himself to blame. His teammates and coaches have no trust or confidence in him at this point, otherwise Allen would be naming Winston the starter for Sunday's matchup in Pittsburgh.
All signs point to Winston being with another team in 2023, likely as a backup. Meanwhile, Marcus Mariota has grabbed the starting job in Atlanta, his third NFL stop since being selected right behind Winston.
And while the Falcons would surprise no one by choosing a quarterback with a premium draft pick, at least Mariota is playing.
Winston hasn't taken a single snap since a 22-14 loss to Carolina in Week 3. He was inactive for two weeks while rehabbing his injured back. Allen still hasn't called his name despite Dalton's 2-4 record under center.
On his fourth different team in the past four years, Dalton has kept his starting job despite throwing only 12 passes that gained at least 20 yards. That's one fewer long completion than Winston in twice the playing time.
Winston's career has been plagued by turnovers, but he did lead the league in passing yards in 2019, his final season with Tampa Bay. He backed up Drew Brees in 2020 and was off to a 5-2 start last year in New Orleans before suffering a torn ACL against the Bucs.
And now he can't beat out Andy Dalton.
A Third Chance?
At the age of 28, Winston is mature enough to keep his mouth shut amid all his frustrations. He suits up every week, waiting for an opportunity that hasn't come.
The continued absence of Michael Thomas has compromised a once-proud offense, but Alvin Kamara is still in the backfield and rookie wide receiver Chris Olave looks like a keeper.
If Winston gets another chance, he just might provide a spark. Instead, he sits as the Saints flounder in a division ripe for the taking.
Perhaps it's Winston's 34-46 career record that has Allen skeptical. More likely, it's Winston's three picks in Week 2 vs. Tampa Bay and his two interceptions at Carolina that have reduced him to an afterthought.
Maybe Winston can channel the spirit of Geno Smith and find success down the line with the right team at the right time. But eight years into his NFL career, Jameis Winston has bottomed out.
Dennis Allen says Andy Dalton's his guy …and that says it all.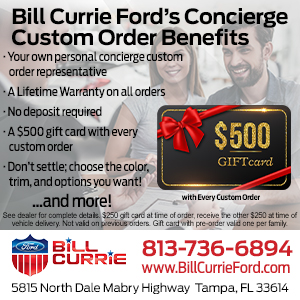 ---
Watch the Bucs-Seahawks game Sunday with Joe, Ira Kaufman and fired up Bucs fans at Big Storm Brewery in Clearwater. …. Great breakfast menu and bloody mary bar, mimosas and Florida's best craft beer. (Lunch starts at 11 a.m.) … Giveaways and more.
SUNDAY, Nov. 13, Bucs-Seahawks in Germany!
The fun starts at 9 a.m.
Join Joe and Ira Kaufman and Bucs fans! 
Breakfast menu for Bucs-Seahawks on Sunday @BigStormBrewing Clearwater has arrived!
Open & serving at 9 am – 12707 49th Street N.
Kickoff at 9:30.
Joe confirmed that @IKaufman76 is buying you 1 drink of your choice OR the "The Ira Kaufman" quesadilla. Just ask Ira BEFORE 10 a.m pic.twitter.com/recVl9O87p

— JoeBucsFan (@JoeBucsFan) November 9, 2022