Clashing Standards — Tom Brady And Todd Bowles
November 10th, 2022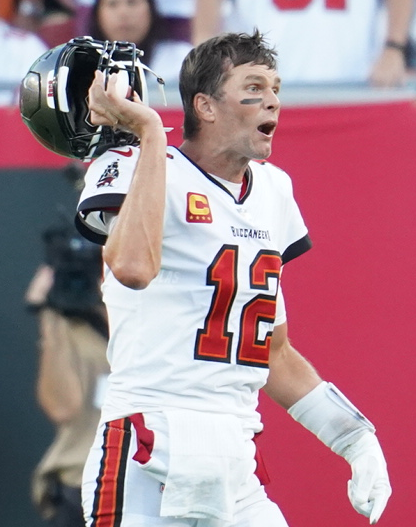 Joe tossed and turned about this for a couple of days after hearing the thoughts of the Buccaneers' head coach and his mighty king of quarterbacks.
Todd Bowles is a very calculated speaker, as is Tom Brady. Everything is measured. And both speak weekly in a pre-recorded format that allows their comments to be edited.
Brady records his Let's Go! podcast on Mondays, often in the morning, and it airs on SiriusXM Mad Dog Radio at 6 p.m. Bowles records his Buccaneers Radio Network show typically on Mondays, and it airs on Tuesday evenings.
So it was very intriguing this week to hear Bowles and Brady deliver mixed messages. (No surprise here.)
On Let's Go!, Brady lamented the Bucs' lack of effort and called it "embarrassing."
"There's definitely some things we do well; there's a lot of things we don't do well," Brady said. "I think too much of good, bad, good, bad, good, bad, leaves you average. And no one's trying to be average. If you want to be a great team, you gotta be way better than average. So correcting our mistakes, improving our effort — which, that's probably the most embarrassing part of our team is our effort level on gameday, and that's something we better fix."
Bowles, however, opened his show quickly praising the Bucs' effort through their three-game losing streak that was snapped on Sunday. He was not asked about effort.
"It was huge [to beat the Rams] after losing three weeks in a row, you get very sour and you have a very sour taste in your mouth for a long time, not from lack of effort, but lack of execution, lack of doing things right," Bowles said.
It wasn't the first time Bowles has praised his team's effort during its recent struggles.
So who is correct? Brady says the team's effort is an embarrassment while Bowles likes the effort. Is either guy being honest? Do Bowles and Brady have different standards of excellence?
What Joe can say with certainty is that Brady and Bowles need a meeting of their media consultants.
As for Brady's comments, Joe doesn't believe Brady thinks the whole team is dogging it. It's likely he's referring to how he believes the team can play harder and be more locked in mentally in certain situations, such as short yardage.