Is More Touches For Rachaad White The Answer?
November 11th, 2022
Joe is baffled by how an offense with so much talent can fall off the cliff so badly.
Teams with far worse offensive lines and fewer weapons than Tampa Bay produce better. It's a sad state of affairs for the Bucs and for Bucs fans.
A former NFL quarterback turned BSPN talking head seems to have the solution. Last week Robert Griffin III took to Twitter and said the Bucs should diversify their offense.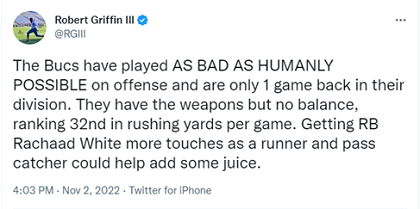 Instead of having Playoff Lenny run up the middle for a one-yard loss, how about giving Rachaad White more touches, RGIII said on Twitter before the Bucs played the Rams.
Joe isn't sure that's the answer because last week White was more involved than he has ever been. He had eight rushes and was targeted three times in the passing game. And still the Bucs had to work harder than a coal miner to score 16 points. Sad!
Joe has no problem with the Bucs diversifying the offense, particularly the running game. But the results are pretty much the same: garbage. Joe guesses something much deeper is wrong with this offense than who is getting touches.