Is Byron Leftwich In Line For The Indianapolis Head Coaching Job?
November 8th, 2022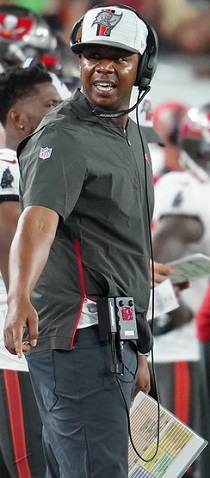 Indianapolis surprisingly launched its offensive guru head coach for lack of production this week and it just so happens that the Colts owner has a close relationship with many coaches on the Bucs' staff.
Joe finds that intriguing considering Colts owner Jim Irsay lovingly referenced his former Colts head coach/playcaller Bucco Bruce Arians this week, and Arians has been adamant that Bucs offensive coordinator Byron Leftwich is worthy of a head coaching gig and is ready for one.
Also, don't forget the powerful endorsement Leftwich got from Colts legend and Bucs assistant coach Tom Moore, and throw in that Bucs QB coach Clyde Christensen likes telling stories of golfing regularly with Irsay.
That makes Joe think Leftwich will get every opportunity to prove himself to Colts management.
Joe finds it extraordinarily hard to believe that Arians won't pick up the phone and say, 'Hey Jim, you gotta talk to Byron, and if you bring him there, I'll help him any way I can.'
Many Bucs fans would love to see Leftwich get a new address, and would be damn happy for the Super Bowl offensive coordinator to land a head coaching gig.
Also, if the Bucs' offense continues to stink like red tide on Madeira Beach, then Leftwich leaving becomes a comfortable solution for everyone in the Tampa Bay organization. The Bucs can change coordinators without hurting anyone's feelings.
Yes, Joe realizes many Bucs fans didn't get three paragraphs into this post without laughing. But Leftwich is very likely to get an opportunity in Indianapolis, and that might be all he needs with a team desperately looking to develop a quarterback.