Give The Job To Nick Leverett
November 13th, 2022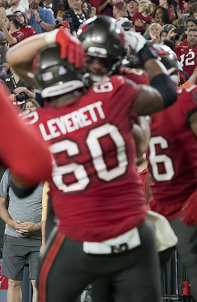 The competition is over. At least it is at JoeBucsFan.com world headquarters.
You had bad luck, Aaron Stinnie.
Luke Goedeke, you had your chance, struggled a bit and got hurt.
Nick Leverett, you've earned your wings as the Bucs' starting left guard.
Leverett, a first-time starter three games ago has been physical, energetic, not prone to bad penalties, and Tom Brady is sure starting to look comfortable again in the pocket.
As Joe noted earlier, Brady was hit just once today by the Seahawks. Once!
Joe has heard over and over and over again through the years about how important continuity is on an offensive line. If that's not a pile of BS, then Joe thinks Leverett has won the left guard gig for the rest of the season.
And it's not like Leverett is a journeyman rookie filling in nicely. He's a 25-year-old undrafted free agent out of Rice University. Leverett's trajectory through the rest of the season should be a big positive. He looked good in his one game against Indianapolis last season and that clearly was no fluke.
Leverett isn't going to the Pro Bowl, but he's not entering the Bucs' Hall of Shame anytime soon, either.
Retired Bucs left guard Ali Marpet told fans there was something uniquely special about Leverett's first start a few weeks ago against the Ravens. He was right.