Energy Score From Todd Bowles
November 19th, 2022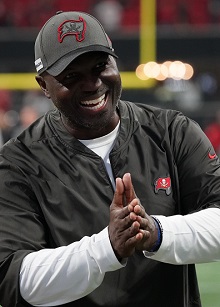 Those who watch Tom Brady highlighted in mic'd up segments often hear the following:
"Let's go, boys. It's about our emotion, right? Emotion and energy," Brady says.
Todd Bowles is an energy guy himself. And of course, energy ties to effort.
Tom Brady blasted the Bucs' effort after the Rams victory two Sundays ago. Bowles countered saying he liked the team's effort and it was good all season.
On the Buccaneers Radio Network this week, Bowles quickly noted how the played with a "different" energy in Seattle. Joe thought that was code for the effort ratcheting up to where it needs to be.
"The vibe that they came out to play with the energy, and carried in the locker room, I thought that was different for us [against Seattle]," Bowles said of his team on the Buccaneers Radio Network.
The head coach later praised the Bucs for playing the full game with energy and looking well rested thanks to their diligence in preparation for the overseas game.
"Proud of the effort," Bowles said.
Joe hopes the Bucs come out firing and playing with their collective hair on fire after the bye week in Cleveland. There is simply no excuse not to.