Still Last In Yards Per Carry
November 19th, 2022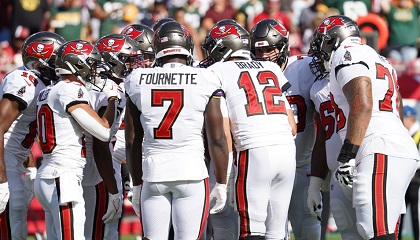 Joe is only writing this to illustrate how historically awful the Bucs' running game was prior to Sunday's game.
Even after Tampa Bay running backs hammered out 36 carries for 164 yards against Seattle, the Bucs remain last in the NFL in average yards per carry at 3.1.
Want perspective on that 3.1 yards-per-carry average? Back in 2018, when the Bucs were handing off primarily to Peyton Barber and Jacquizz Rodgers, the team ranked 31st in the NFL in yards per carry at 3.9.
The Bucs head to Cleveland next and Joe is eager to see how the Bucs' run game handles itself against a poor Browns run defense.
The offensive line should be rested and firing off the ball, and the extra prep time for playcaller Byron Leftwich should lead to results.
If the Bucs can't run the ball on Cleveland with the Browns paying all kind of attention to stopping healthy Mike Evans, Chris Godwin and Julio Jones, then Joe will wonder if the running success against Seattle was more fluke than engineering.