Brady Magic Delivers A 16-13 Bucs Win
November 6th, 2022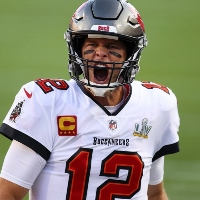 What a gut-wrenching and ugly win — and Joe is loving every damn second of it!!
Somehow the Bucs flipped a switch on their final drive with less than a minute to play. Finally, Tom Brady turned on his trademark magic.
And he worked much of it with Scotty Miller and rookie tight end Cade Otton.
Our beloved Bucs had a "mini-bye" to prepare for a miserable Rams team and came out uninspired at home. The offense wasn't fixed and it even looked worse than in previous weeks.
The Bucs didn't look well coached. The defense was strong but a lot of that was the anemic Rams, and the defense was gutted by a handful of big plays.
Miller nearly was a gut-wrenching goat (not the good kind) after dropping a touchdown pass on the second-to-last drive. But he got a shot to redeem himself on the game-winning drive and picked up key yardage before a Otton caught the game-winner with seconds to play after  Mike Evans drew a pass interference penalty.
Joe is not sure what was learned about the Bucs tonight, other than that they're still alive, Brady has no fold in him, and the team doesn't know how to use the challenge flag. But now they're in first place in the NFC South at 4-5 and owning the tiebreaker with the Falcons.
They're in the hunt!
Maybe, just maybe, this will inspire the team and the coaches to make necessary changes, especially the uncomfortable kind.
Props to Vita Vea for a monster game. The Bucs will need more of that without Shaq Barrett. Take a bow, Ryan Succop and Jake Camarda.