After Bye Week Off, Tom Brady Leads NFC In Passing
November 21st, 2022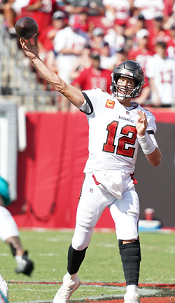 Joe thinks it's a safe bet that Tom Brady won't retire next year because he can no longer play at a high level.
Even after just completing a bye-week break, Brady ranks fourth in the NFL in passing yards behind Patrick Mahomes, Josh Allen and Joe Burrow. And that means he leads the NFC.
Brady leads the NFL in pass attempts with 427 and has 2,805 yards and a 66 percent completion rate to show for it.
Throw in that Brady no longer has a wife telling him not to play football, his QB coach says he's improving and Brady has demanded tougher practices and continues his rigorous Friday throwing routine, Joe finds it harder and harder to believe Brady will quit the game he loves in a matter of weeks.
If Brady finishes the season healthy and the players around him don't let him down, Joe thinks it's going to be difficult for Brady to wave goodbye to the Bucs.
And Joe's not the only one in that camp.
---
Ira Kaufman Talks Byron Leftwich Future, Bruce Arians' Behind The Scenes, The Rachaad White Call, Germany Scenes, And More