"Absolutely He Saved The Bucs Season"
November 8th, 2022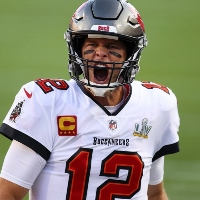 Joe's not sure what this Pro Football Hall of Famer's comments say about Tampa Bay's top-10-ranked defense or the coaching prowess of Todd Bowles and Byron Leftwich.
Certainly not much.
Barking and yelling on ESPN TV this week has been Michael Irvin, the Cowboys great who emphatically declared of Tom Brady, "absolutely he saved the Bucs season," with his precision game-winning drive Sunday against the Rams.
Yeah, Irvin blasted the ugly overall play of both teams and particularly skewered the Rams for playing too soft on Scotty Miller on the sidelines in the closing seconds, but the bow goes to Brady, he said.
"That was horrific football for a long time," Irvin said.
So should Bucs fans be excited by the winner of a brutally ugly showing? Damn right, Irvin said, noting that kind of "W" was exactly what Brady and the Bucs roster needed to restore deep-rooted hope and confidence moving forward.
"They needed to win it that way, with Tom Brady coming down the last second making that drive," Irvin said, adding that the Bucs offense is still "bad" but Sunday should serve as a re-launching point.
Joe has no doubt that the "W" was huge for the Bucs' psyche and their chances of winning against Seattle on Sunday, but that remains a huge longshot without massive improvement in the offense or the reappearance of forced turnovers.