Bucs Defense Sets Dubious Franchise Record
November 7th, 2022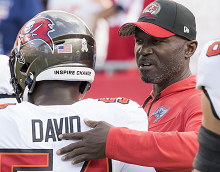 Joe was not expecting to engage in a research project today. But what began as curiosity turned into just that.
The result was ugly.
Our beloved Buccaneers defense has gone five consecutive games without a turnover. That's a new franchise record!!
Yes, Joe checked the data multiple times, and this hasn't happened since the Buccaneers became a team in 1976. It's quite rare to even go three straight games without a turnover.
Joe doesn't believe in football coincidences, so it's got to be more than bad luck that has led to Tampa Bay running dry in this department.
The Bucs have forced nine turnovers in nine games this season, a steep drop from averaging 1.7 per game last year and 1.6 in 2020 and in 2019 under Todd Bowles.
It is said that turnovers come in bunches, so perhaps Sunday against the Seahawks is when the tide will turn. Joe doubts the Bucs can beat Seattle without forcing a couple of turnovers. The Bucs' offense isn't consistent enough to get into a shootout with the explosive Seahawks.
---
SUNDAY, Nov. 13, Bucs-Seahawks in Germany!
Join Joe, Ira Kaufman and Bucs fans!
Great breakfast menu (lunch starts at 11), bloody mary bar, Florida's best craft beer, giveaways, covered outdoor seating (and indoors).