44 Drives, 4 Touchdowns
November 8th, 2022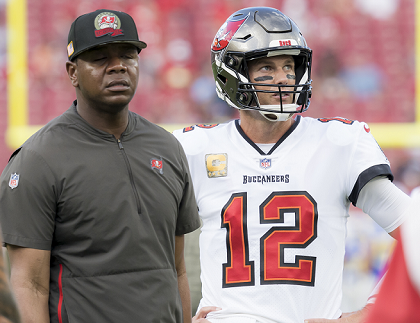 Team Glazer knows it, fans know it, Todd Bowles knows it and the screaming talking heads know it.
The Buccaneers offense is broken.
ESPN has been trumpeting to the nation the bad news. The Bucs have four touchdowns in their last 44 drives. That's the worst stretch in the NFL.
Tom Brady, playcaller Byron Leftwich and Bowles were going to repair the offense after the Steelers game, and then during the Panthers game. Then it was going to happen against the Ravens and surely after a bunch of self-scouting for 11 days before the Rams game on Sunday.
It hasn't happened.
The Bucs can't run (worst run game in the NFL) and they struggle to move the chains despite a top-10-ranked defense and plenty of weapons for Brady.
Joe is still fired up by Sunday's thrilling win against the Rams. However, nothing really was learned about the offense other than Cade Otton can be trusted in crunch time, Nick Leverett is solid and Brady still can be legendary with cool and precision in the final seconds of a game.
That's something to build on, but the offense still needs to take a giant step forward in order to be competitive.