Tony Dungy Blames Training Camp Vacation
October 17th, 2022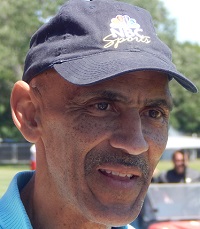 Yeah, people are still going there, even a Hall of Fame coach.
Tony Dungy, aka Father Dungy, works the NBC Sports studio during Sunday Night Football weighing in on the interesting games of the day.
When the Bucs-Steelers game got on Dungy's plate, Joe was surprised to hear the former Bucs head coach (1996-2001) look at the Bucs' lack of precision on offense and blame, in part, Tom Brady leaving the team for 11 days in the summer.
Nearly two months later, Dungy thinks it's a factor.
Joe maintained that Brady's summer siesta was an issue as it related to the players around Brady. Only a hypocrite would call Brady an uplifting force for every facet of the organization and then claim it's no big deal that he took a vacation in training camp.
But Todd Bowles had the Bucs ready for opening night in Dallas, so Joe has to take the summer siesta off the table as an excuse for Tampa Bay's offense yesterday. C'mon, Father Dungy.
However, if you subscribe to the theory that practice makes perfect, and that practice makes precision, then it's hard to totally write off Dungy's take — especially when you throw in that Brady spent much of Saturday away from the team.
Regardless, as Joe detailed yesterday, blaming Brady for yesterday's upset is ludicrous.