Stop Blaming Tom Brady
October 16th, 2022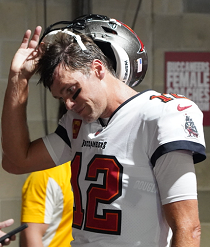 Sorry, but Tom Brady at a wedding Friday night is not responsible for horrible special teams coverage, the Steelers converting 7-of-15 on third down with bad quarterbacks, and the Bucs' league-worst, yards-per-carry average.
Joe realizes the national media is going wild with the report of Brady going to creepy Bob Kraft's wedding in New York City on Friday and skipping the Bucs' walk-through practice session on Saturday.
They'll tell you that's a key reason the Bucs were upset 20-18 by Pittsburgh this afternoon.
Even close Brady friend Michael Strahan was poking Brady on the FOX-TV halftime show, noting that if you miss that practice you better come out and play well. Terry Bradshaw was blasting Brady, saying he never would have considered such a thing during his Hall of Fame career.
Joe gets that Brady had a subpar day today, though he seemed sharper than most of the guys around him. And perhaps that's the point, Brady is needed to raise the games of others during the week so they're ready for gameday. Joe doesn't buy it, but it's a fair argument.
Joe wishes it was fair to blame Brady and his wedding jaunt for today's loss. That would be much less troubling than the alternative — blaming a complete team and apparent leadership breakdown.