Todd Bowles Isn't Getting Through
October 16th, 2022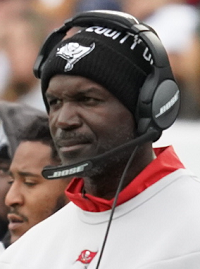 Late last week, Bucs head coach Todd Bowles was asked why his team is playing better on the road.
Bowles replied by implying there's greater focus with the team together and bonding on a road trip. He made a similar comment after the Bucs went to Tennessee for six days during training camp. Bowles said it was a great bonding trip, even though Tom Brady passed in favor a beach getaway.
(No, Joe's not counting hurricane evacuation with families along for the ride as a bonding trip.)
So it's rather disturbing that both the Bucs offense (1 yard on the opening drive) and the defense came out flat today and the Bucs fell behind 7-0 in a hurry.
How does that happen to such a talented football team?
It's a crisis of leadership somewhere. And the easy but possibly inaccurate finger-point goes to the head coach.
Where's the fire and pride from the opening whistle?
The Bucs aren't an awful team and they're in first place at 3-3, but there's still a Super Bowl standard and expectation as far as Joe is concerned. There's too much talent and experience to expect anything less.
The seamless transition of power feels like a fumbled snap right now.
#Bucs coach Todd Bowles says some guys are still living off the Super Bowl.

— Dan Lucas (@WFLADan) October 16, 2022