"They Looked Stunned"
October 26th, 2022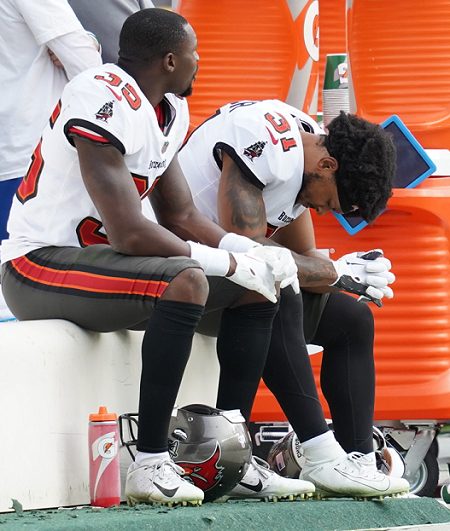 This commentary is disturbing because it comes from a guy who readily admits — and did so this week — that he's good friends with Bucs offensive coordinator Byron Leftwich and co-defensive coordinator Larry Foote.
Joe is referring to former Steelers guard Max Starks, who was a teammate of Leftwich and Foote, and he played for Bucco Bruce Arians.
Starks works part-time hosting on SiriusXM NFL Radio and also is a regular on Arizona sports radio.
This week with Alex Marvez on Late Hits, Starks revealed his shock by what's happened to the Bucs and he claims it looks worse than it is. Starks said he wouldn't be so particularly disturbed if he wasn't live on the sidelines himself for the Steelers-Bucs game 10 days ago.
"They looked stunned," Starks said of the Bucs defense. And he noted that the Tampa Bay offense looks equally miserable. "You never think of a Tom Brady-led team looking this bad," Starks said.
"I wonder if the effects of the preseason and the [Brady] time missed [in August] created a gap between Tom and the rest of the team"
Joe heard that and Joe's antennae went up. Why? Because Joe has no doubt that Starks talked to Leftwich and Foote before the game, at the game and after the game.
"I wonder if the message is growing a little bit stale" because of Brady's time off," Starks said.
He went on to insist that Leftwich and Foote, and others on the Bucs staff, are such good coaches that it magnifies the problems at One Buc Palace.
---
Ira Kaufman Addresses The Crisis State Of The Buccaneers, Next Steps, And Ravens Game Predictions & More