Rondé Barber: Lack Of Discipline Crushing Bucs Defense
October 26th, 2022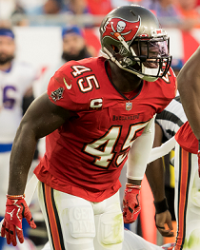 Legendary Bucs cornerback Rondé Barber has clear thoughts on the failures of the Tampa Bay defense, and he named some names this week.
Barber, speaking on the Buccaneers Radio Network, wagged a finger at too many Bucs trying to make splash plays and not doing their jobs. He also pointed specifically at Vita Vea for quitting on his assigned gap during Panthers running back D'Onta Foreman's 60-yard scamper on Sunday.
(Joe would link to video of the play but it shows (again) Joe Tryon-Shoyinka throwing his arms up in frustration during a play rather than chasing a ball carrier. Joe can't stomach that.)
Barber explained that big-play players don't focus on big plays. He said during his 10-interception season that "I probably worked hard for three of those," and the rest came because he simply was playing hard and following his assignment.
He pointed to Devin White as a guy who tries to do too much and it backfires.
"Devin is a one-of-a-kind type of football player — size, speed, you know, instinctiveness, all these other things," Barber said. "But you can also put your self in position when you're trying to do to much, you put yourself out of position to make plays. And I've seen that."

"… So if the numbers are down [for White and Lavonte David], that could be the reason why. … He doesn't need to do anything more than be the Devin White we know that he can be."
Defense isn't the Bucs' primary problem, of course, but it's an issue. The Bucs have too much talent to be ranked 31st in red zone defense and 16th in yards-per-carry allowed.